Massed Ringing, Workshops, and Concerts – Oh My!
Day 2 of the International Symposium offered the first rounds of workshop sessions. Symposium workshops include a variety of topics, related both to handbells and the cultures of the participating countries.  Included in the sessions on Day 2: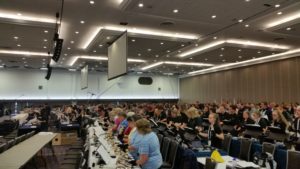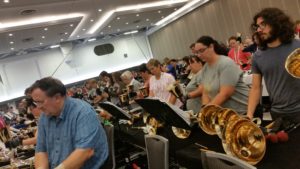 Furoshiki – Japanese Wrapping Cloths
Writing Chinese Lucky Messages
Groove to Bells and Cajon
Ringing with a Smaller Number of Bells
Composer's Corner
English Style Church Bell Ringing
Conducting Make Easy
Latin Dance
Expressive Conducting Skills
Six-in-Hand
The Body Bellistic
Interpersonal Communications Skills for Handbell Ringers
We also saw our first round of Mini-Concerts and Showcase Concerts.  The mini-concerts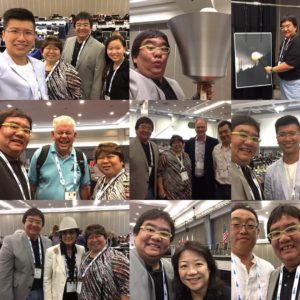 include short performances of 1 or 2 pieces by individual choirs and teams attending the event and last about 30 minutes.  The Showcase Concerts are longer, and feature performers representing each participating country. Both provide an excellent opportunity to hear amazing performances and learn more about the music and ringing style of our friends around the world.  The first round of concerts showcased full choirs, small ensembles, and bell tree.  We heard original works, classical transcriptions, and arrangements of folk tunes and popular music.
In between workshops and concerts, the massed ringing rehearsals continued.  Each conductor was allowed 30 minutes of time to work on their piece and great progress is being made.
Throughout it all, it is wonderful to see new friendships develop between participants of different nationality, overcoming language barriers, sharing gifts, taking groups selfies, enjoying the spirit of peace and harmony that embodies the event.