Final Concerts and Farewells
The final day of the International Handbell Symposium is the first time all the parts come together for a dress rehearsal of the final concert.  The Youth Track, Festival Choir, full massed ringing group, and other extra musicians, run the program.  This is also the first time the audience space was open, which changes the acoustics of the room.  In addition, the Vancouver planning team added giant video screens hung from the ceiling of the ringing room so the audience would have a great view of the performers.  So, this was also a technical rehearsal for the audio/visual crew.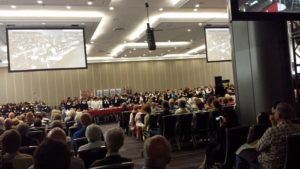 After a final workshop session and provided lunch, we all gathered for the final concert to a sold-out audience. All musicians involved performed well, with many pieces achieving their best playing of the event for that audience.  Nothing can match the sound of that many skilled handbell musicians ringing beautiful music as one.  It embodies the International Handbell Committee mission of world peace through the spirit of music.
Following the concert and after all the bells, foam, and tables are packed up and loaded out, participants prepare for the Final Gala Banquet and Closing Ceremonies.  The setting for this year's banquet offered a beautiful view of the mountain landscape through floor-to-ceiling windows at one end of the ballroom.  Attendees gathered here for more IHS traditions.
The ceremonies began with a procession of the flags and representatives of the IHC member guilds.  After a brief welcome and prayer, a plated dinner was served.  Closing addresses were presented by Patsy Andrews-Vert, president of the Handbell Guilds of Canada, and Sun-Joo Shin, executive director of the International Handbell Committee. This was followed by several awards, presentations and acknowledgements. See the News section on this website for more information about these.
An important part of the Closing Ceremony is the passing of the IHC Flag and Symposium Bell to the next host country followed by their invitation to the next Symposium.  Carmel Daveson, representing the Handbell Ringers of Australasia, delivered a rousing introduction and invitation to Cairns, Australia, for the 18th International Handbell Symposium.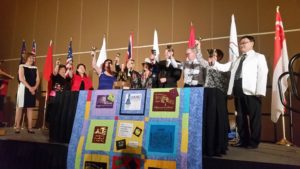 Finally, after closing remarks from the chairs of the planning committee, all IHC representatives ring the Closing Chord, ending the 17th International Handbell Symposium.